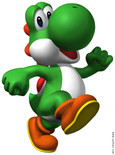 Mama?
--Yoshi, calling Mama Luigi to his aid.
Yoshi is that gay annoying dinosaur who likes to call for his mama, Mama Luigi.
When he was born, he found Mama Luigi and took him for himself. He later then swallowed Luigi's Brother, Mario. For some reason, "Yoshi no like Meatballs."
When Yoshi wanted Mama Luigi to tell him a bedtime story, Mama Luigi agrees and tells Yoshi a story about how he found Yoshi.
For some reason, this little guy makes King Dedede look like he's on a diet.
Yoshi survives regularly by eating Marios, Luigis, caterpillars, Keys,Mecha Koopas, princesses, Koopas,Koopalings, Bowsers, other Yoshis, Shy Guys, you, Mirrors, fruits, worms, any living thing in existence, bagels, and of course, lottsa spaghetti!